Unit 5, Silveroaks Farm, Hawkhurst Lane, Waldron, Heathfield, E.Sussex, UK, TN21 0RS
Tel (0)1435- 813393, International +44 1435 813393
VAT Reg. No. GB 241 7291 72
TO PLACE YOUR ORDER PLEASE "EMAIL" ADVISING YOUR DELIVERY LOCATION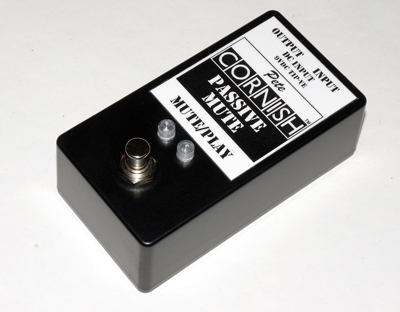 Specially designed to be used with our range of Grey Series or Battery-Free pedals - a Passive Mute Switch. As all our pedals (with the exception of the Vintage TBs)
include internal Buffer/Line Drivers, the Play/Mute Switch can be connected between the output of the last pedal in line and the amp input to facilitate a complete shutdown of signal when required.

The Mute switch is also suitable to be used at the output of other Buffered pedals - it may not be suitable to be used with true bypass or unbuffered pedals and such use is not recommended.

There is no internal Buffer/Line Driver in this unit - the 9Vdc power supply (Tip-ve) is only required to illuminate the LEDs and the Play/Mute function will still operate if the power supply is disconnected.

Dimensions: 120 X 65 X 40 mm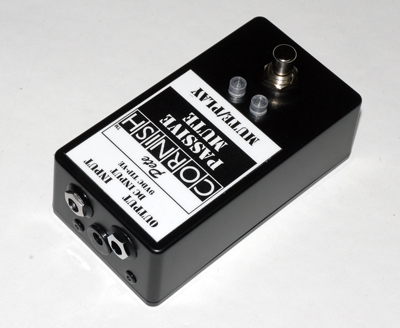 An input for a DC adaptor is fitted: the size of the coax connector is 5.5/2.1mm and the centre pin is negative (-VE). The voltage rating of the adaptor should be noise free, fully stabilised at 9V DC and capable of supplying 20mA. We recommend the use of the Voodoo Lab Pedal Power 2 Plus adaptor as meeting the above criteria and cannot accept any liability for damage caused to this unit by the use of, or to, any other type of AC/DC adaptor. An adapter proving an output of an AC voltage should not be used as it will permanently damage the pedal: such damage is not covered under our warranty. If only a single unit is to be powered the BOSS PSA series may be more cost effective and is also recommended.

WARRANTY DETAILS:

This unit has been built using the finest available components and constructed to the highest standards but should any fault occur during the two years from date of purchase please return it post paid to the above address with a copy of your original purchase receipt where under guarantee repairs of any original manufacturing fault will be carried out (normal wear, misuse,
unauthorised modifications or accidental damage excepted). The warranty will be voided if the guarantee labels are damaged or
removed. This warranty does not apply to customer's own equipment, which has been connected to this unit.
©Pete Cornish™ 2016 E. &O.E.