Unit 5, Silveroaks Farm, Hawkhurst Lane, Waldron, Heathfield, E.Sussex, UK, TN21 0RS
Tel (0)1435- 813393, International +44 1435 813393
VAT Reg. No. GB 241 7291 72

PETE CORNISH
Originally published January 1996 in Q Magazine
Screeee! Fzzzzzzz! Cracccck! Thus spake the average rocker's effects set-up-until a wizard-like genius put his foot down and equipped Lou Reed, Paul McCartney, The Bay City Rollers and scores of others with the custom-built "boards" scores of others with the custom-built "boards and "racks". Danny Eccleston gets wired-up with the Sussex sonic sultan – and wife!
It's how you imagine the BBC Radiophonic Workshop must have looked circa 1969. Half second-hand electrical goods emporium, half boffin's lair, Pete Cornish's Sussex headquarters is a grotto of technological arcane. Home-made cables hang hooks, boxes of capacitors and punnets of valves (12AX7As, 6L6GCs, heart-of-a- Marshall EL34s) line the shelve, and a pair of green-screened oscilloscopes blip sporadically. In a corner, in white, lint-free gloves, Lynda "queen of the acid dip" Cornish pores over an array of mazy circuit boards.
"They're harder to get hold of these days," shrugs Pete, gesturing valvewards, "but luckily the military still demand them. In a nuclear attack all the computers go down but your valve keeps going."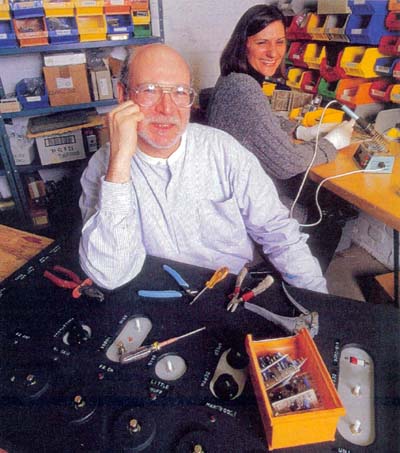 Pete Cornish is the Professor Quartermass of live rock'n'roll. When the biggest (and necessarily, the most loaded) names in rock need their effects pedals rationalizing, their voltages stabilizing or the last hair of extraneous noise expunged from their otherwise pant-wettingly bell-like guitar sound, they come to him. And have done for two decades.
"Lou Reed flew over from Switzerland," recalls Lynda of the usually grouchular one. "He'd been told for 20 years that if you want this sound you've got to put up with the noise, and when Pete showed him what he could do, he wept. He was just over the moon."
Perhaps the only man in music whose crusade it is to eliminate noise, Cornish discovered his vocation aged eight, poleaxed by tonsillitis and with nothing to read but a copy of Practical Wireless magazine. At 16, he secured an apprenticeship with the Ministry of Aviation, where he developed a mania for high-quality wiring, and in 1971 he scored a job in London's Sound City music store, repairing amplifiers for the likes of Pink Floyd, Mott the Hopple, Slade and Queen. It was the dawn of the guitar FX age and Cornish's rigorous training in military electronics told him that something was amiss in the way these multifarious pedals-fuzztones, flangers and chorus units-were being used. You could say it was a flash of inspiration…
"Hahaha, yes!" That's a good one," he cackles. "The first pedal board I made was for Peter Banks of Flash (and later, Yes). I realized that you couldn't link 24 pedals together and get anything like a good sound. They had to be isolated. Like David Gilmour's new rack, that has 24 send-and-returns-I recently added eight more so he could play the Dark Side of the Moon stuff – but you won't hear a thing until he plays a note!"
Gilmour ("Oooh, a lovely guitar sound") proved the perfect ad, and work followed with Genesis, King Crimson, Roxy Music, The Police, The Pretenders, Mark Knopfler, Sting, Macca, Jimmy Page and, er, The Bay City Rollers. These days, to own anything Cornish-designed is a sign that you've arrived.
"This guy came in the other month, moaning and groaning. I'm a dissatisfied customer, he says. I'm bringing this back under guarantee. I said, Who are you then? I'm David Cross out of King Crimson and you made this for me in 1976…"
These days, the Cornishes' work is mainly split between their pedal boards and rack systems. For the former, they will receive a boxful of the artist's favourite effects pedals, gut them, modify the wiring for improved reliability and guitar signal integrity and conceal them in a single, sturdy and frankly enormous wooden box, with size 11-friendly buttons replacing the original units' flimsy switches. Bingo!
The stage is no longer untidily strewn with cables and unless the determined memorabilia hunter is built like Charles Atlas, your FX set-up is completely safe, sound and pretty much impervious to damage.
The LED-infested racks, on the other hand, are the really big boy's toys, and for these Pete will recommend certain preamps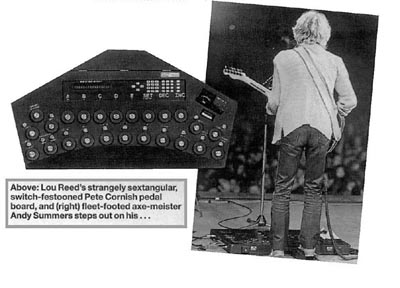 and power amps (invariably the US Soldano brand), while stacked above and below you'll find every combination of sound colouring and effect, controllable from a front-of-stage pedal board. These range from the simple to the sci-fi, Lou Reed's being one of the most impressive and Greg Lake's – four buttons governing over 100 units and 17 amps-representing one of the most deceptively basic.
Current projects for the husband-and-wife team include a fluorescent yellow pedal board for Julian Cope, a guitar rack for Mike Rutherford and a speaker for Lou Reed – an exact copy of one the sax-playing Cornish built in 1975 for his electric flute. What ever the amplification-related job, the trust invested in the two of them is complete, and rather touching.
"If you're working under the sort of conditions that artists are on stage and things aren't going right, it must be a dreadful stain," Lynda muses, "because you've got thousands of people out there. Joan Armatrading came to us recently and said there were certain songs she couldn't play live because she knew her gear would fail."
"Or if you're Jimmy Page," nods Pete, "playing the market square in Marrakech, you have to know that the components in your system will take the heat. There's really no secret to what we do: It's just quality workmanship and the best components."
For these unlikely rock'n'roll linchpins, seemingly marooned among the sleepy South Downs, life has become one long, vicarious tour, leavened (witness Page and Plant set list here, a discarded Iron Maiden laminate there) by the odd dose of the real thing. But if the Cornishes bespoke sonic tailoring appears as thankless as it is invisible to the average gig-goer, there are enough opportunities to indulge in a quiet swell of pride…
"The Velvet Underground at Wembley," sighs Pete, "that was an epic night. Penn and Teller were sitting in front of us, and they'd seen hundreds of his gigs. Lou played the first chords of Rock and Roll and Penn turned around and went 'Yessss!' He knew what we'd been up to, and he'd never heard him sound so good."