Unit 5, Silveroaks Farm, Hawkhurst Lane, Waldron, Heathfield, E.Sussex, UK, TN21 0RS
Tel (0)1435- 813393, International +44 1435 813393
VAT Reg. No. GB 241 7291 72
TO PLACE YOUR ORDER PLEASE "EMAIL" ADVISING YOUR DELIVERY LOCATION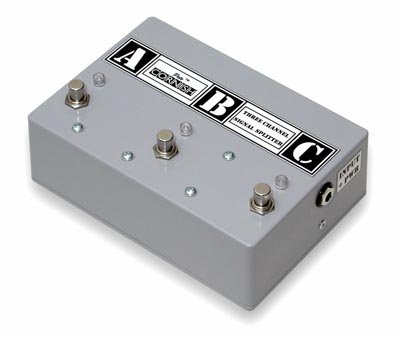 The input to this unique device is our universally acclaimed High Impedance, Unity Gain, Class A, Buffer Preamp with it's superior RFI rejecting capability (to eliminate Radio Station interference) and Low Impedance Audio output.
APPLICATIONS:
Feeds up to three amps (ensure all grounded to AC power): low Z Balanced outputs allows the use of long cables without loss of Tone or Level and without introducing any "ground loop hum".
Outputs A and B are floating and will prevent ground loops occurring: please ensure your amps are connected to a reliable power ground at all times. All three outputs are identical in signal level so there will be no difference in performance by changing outputs. All Outputs can be used to drive amps via Mic Tie Lines for studio applications using the appropriate T-R-S / XLR and XLR / Mono Jack adaptors which are available to order. A Footswitch controls each Output and the selected channel is active when the indicator light is on.
CONNECTORS:
| | |
| --- | --- |
| Input + Power | 1/4 in. Mono Jack |
| Output "A" | 1/4 in. T-R-S Jack (or Mono Jack) |
| Output "B" | 1/4 in. T-R-S Jack (or Mono Jack) |
| Output "C" | 1/4 in. Mono Jack only |
SPECIAL NOTE:
When using more than one amp there is a 50 percent possibility of the second or third one being out of phase with the first. The way to test this is to use just one amp; connected to output C, then add the second amp (to outputs A or B) and the volume should increase slightly and be "fuller". If there is a reduction in volume or bass when the second amp is added then that one is out of phase. Outputs A and B are fitted with Phase Reverse Switches, which are situated on the rear of the unit adjacent to the Output Jacks. Output C does not have a phase Reverse Switch as this is the "Reference" channel.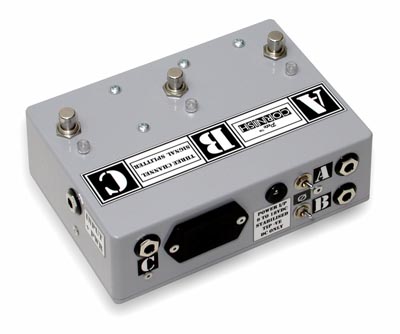 POWER SUPPLY:
The battery is replaceable via the removable "drawer" and we recommend alkaline types. The battery is switched on when you insert the "INPUT+POWER" jack and to ensure long battery life unplug this lead when the unit is not in use. If the unit is not to be used for a long length of time, we recommend that you remove the battery.
IMPORTANT NOTE:
Also fitted is an input for a DC adaptor: the size of the connector is M2.1 with negative (-VE) tip.
This is a Dual Voltage unit and using a 9.6vDC adaptor (Boss PSA series or similar) the performance will be identical to when Battery powered.
Using a fully smoothed and regulated AC/DC adaptor with an output voltage of 18vDC Maximum, and capable of supplying 20mA, the signal performance of the unit will be as shown below.
Please do not use an adaptor with a higher output voltage than the specified 18vDC maximum, or of reversed polarity, as it may damage the unit and such damage will not be covered under the terms of our guarantee. An adaptor with an AC voltage output should NOT be used.
Although the current consumption of our Stand Alone pedals is extremely low, giving an extended battery life, it may be appropriate to use an AC/DC Adaptor for long term usage. If a single pedal only is in use then the Boss PSA series will be cost effective but we do not recommend this unit for powering multiple effects as ground loops can become troublesome.

After extensive testing for both noise, stability and reliability we have pleasure in recommending the Voodoo Lab Pedal Power 2 Plus as being suitable for powering our range of stand alone pedals - particularly when multiple effects are in use. The isolated outputs of the Pedal Power 2 Plus prevent the occurrence of ground loops and the noise level is too low to measure.
Dimensions: 171 X 121 X 55 mm
| | |
| --- | --- |
| SPECIFICATION (with 9.6vDC supply): | SPECIFICATION (with 18vDC supply): |
| Input Impedance 1Mohm+20pF | Input Impedance 1Mohm+20pF |
| Minimum Output Load 10 Kohms | Minimum Output Load 10 Kohms |
| Maximum Output +7dBm/1.75Vrms/5v P/P | Maximum Output +15dBm/4.4 Vrms/12.4v P/P |
| Output Noise - 106dBm (10KHz B/W) | Output Noise - 106dBm (10KHz B/W) |
| Frequency Response +/- 1dB 20Hz to 32 KHz | Frequency Response +/- 1dB 20Hz to 32KHz |
| Gain Unity: input to any output | Gain Unity: input to any output |
WARRANTY DETAILS:
This unit has been built using the finest available components and constructed to the highest standards but should any fault occur during the twelve months from date of purchase please return it post paid to the above address where under guarantee repairs of any original manufacturing fault will be carried out (normal wear, misuse, unauthorized modifications or accidental damage excepted).
This warranty, which is not transferable, does not apply to customer's own equipment, which has been connected to this unit.
©Pete Cornish™ 2014 E. & O.E.