Unit 5, Silveroaks Farm, Hawkhurst Lane, Waldron, Heathfield, E.Sussex, UK, TN21 0RS
Tel (0)1435- 813393, International +44 1435 813393
VAT Reg. No. GB 241 7291 72
TO PLACE YOUR ORDER PLEASE "EMAIL" ADVISING YOUR DELIVERY LOCATION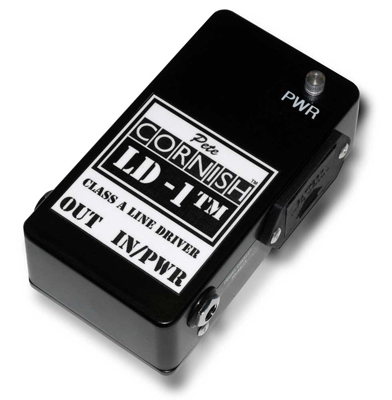 Our low noise discrete component Class A pre-amplifier has been specifically designed to overcome the problems often encountered with amplification of Electric Instruments fitted with magnetic transducers.
A frequent cause of these problems is the mismatch of the impedance in the electrical circuit between the pickup and subsequent equipment: this mismatch has been completely eliminated with the introduction of our LD-1™ Line Driver.
The input impedance is identical to a high quality tube amplifier and our Class A Pre-amplifier also features a highly effective RF filter which will help prevent interference from nearby radio transmitters.
The pickup output should be connected directly to the LD-1™ input with a low loss, screened cable; the LD-1™ output can now be fed to any effects or volume pedals (if used) and then on to the amplifier, using fully screened cables throughout.
A further use of the LD-1™ is to isolate long cable feeds which can cause signal and tone losses at the end of an effects chain, particularly if the final effect has a high impedance output (for instance a 250KW foot volume pedal). When using many effects it can be beneficial to add a LD-1™ mid way along the chain thus preventing a build up of signal losses that can occur with mismatched impedances between effects.
POWER SUPPLY:
The battery is replaceable via the removable "drawer" and we recommend alkaline types. The battery is switched on when you insert the "IN / PWR" jack and to ensure long battery life unplug this lead when the unit is not in use. If the unit is not to be used for a long length of time, we recommend that you remove the battery. Preferred battery types are MN1604. Also fitted is an input for a DC adaptor: the size of the connector is M2.1 with negative (-VE) tip. The voltage rating of the adaptor should be fully stabilized at 9.6V and capable of supplying 20mA. We recommend the use of the BOSS PSA series adaptors (PSA-100/110/220 or 240 depending on your local AC supply voltage) as meeting the above criteria and cannot accept any liability for damage caused to this unit by the use of any other type of AC/DC adaptor.
IMPORTANT NOTE:
This unit has now been upgraded to Dual Voltage. Using a 9.6vDC adaptor (Boss PSA series or similar) the performance will be identical to when Battery powered.
Using a fully smoothed and regulated AC/DC adaptor with an output voltage of 24vDC Maximum, and capable of supplying 20mA, the signal performance of the unit will be as show below.
Please do not use an adaptor with a higher output voltage than the specified 24vDC maximum, or of reversed polarity, as it may damage the unit and such damage will not be covered under the terms of our guarantee.
An adaptor with an AC voltage output should NOT be used.
Although the current consumption of our Stand Alone pedals is extremely low, giving an extended battery life, it may be appropriate to use an AC/DC Adaptor for long term usage. If a single pedal only is in use then the Boss PSA series will be cost effective but we do not recommend this unit for powering multiple effects as ground loops can become troublesome.

After extensive testing for both noise, stability and reliability we have pleasure in recommending the Voodoo Lab Pedal Power 2 Plus as being suitable for powering our range of stand alone pedals - particularly when multiple effects are in use. The isolated outputs of the Pedal Power 2 Plus prevent the occurrence of ground loops and the noise level is too low to measure.
| | | | | |
| --- | --- | --- | --- | --- |
| SPECIFICATION (with 9Vdc Supply) | | | SPECIFICATION (with 24dc Supply) | |
| | | | | |
| Input Impedance | 1 M ohm | | Input Impedance | 1 M ohm |
| Minimum Output Load | 10 K ohms | | Minimum Output Load | 10 K ohms |
| Maximium Output | +9dBm/2.2Vrms/6.25v P/P | | Maximum Output | +18dBm/6.2Vrms/17.6v P/P |
| Output Noise | -110dBm (10Khz B/W) | | Output Noise | -110dBm (10 Khz B/W) |
| Frequency Response | +/- 1dB 15 Hz to 40 KHz | | Frequency Response | +/- 1 dB 15 Hz to 40 KHz |
Dimensions: 120 x 65 x 40mm
WARRANTY DETAILS:
This unit has been built using the finest available components and constructed to the highest standards but should any fault occur during the twelve months from date of purchase please return it post paid to the above address where under guarantee repairs of any original manufacturing fault will be carried out (normal wear, misuse, unauthorized modifications or accidental damage excepted).
This warranty does not apply to customer's own equipment, which has been connected to this unit.
This warranty is non-transferable.
©Pete Cornish™ 2014. E. & O.E.