Unit 5, Silveroaks Farm, Hawkhurst Lane, Waldron, Heathfield, E.Sussex, UK, TN21 0RS
Tel (0)1435- 813393, International +44 1435 813393
VAT Reg. No. GB 241 7291 72
TO PLACE YOUR ORDER PLEASE "E-MAIL" ADVISING YOUR DELIVERY LOCATION
To Hear the GC-1™ in Action Cick HERE
New for 2021 and in celebration of our 45th year designing and building professional stage equipment we are proud to present the GC-1™.

This is a completely new unique three stage design which features both hard and soft clipping stages with automatic switching between them as the gain increases, and also has a wider gain range than any of our previous pedals making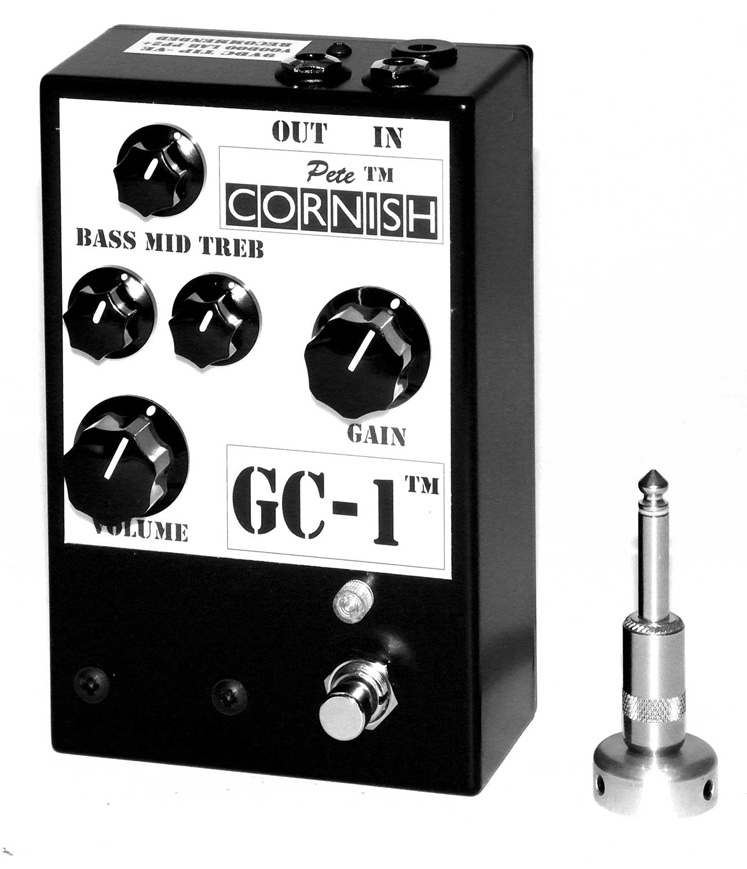 it perfect for live performance and recording.

With the gain set to minimum (+20dB=10X) we are in the area of Soft Sustain as found on our SS-2 and SS-3 and the inclusion of a three band powerful active EQ has enhanced even the lowest gain settings giving a new bonus of tone and volume. A wonderfully Smooth and Transparent Blues Crunch is a feature at low gain settings and the powerful EQ is a huge part of the sound with even small changes giving maximum tonal flexibility to suit any amp. The GC-1 has amazing Bottom End Retention and is Refined and Warm sounding without getting"muddy".

As the Active EQ is so powerful the GC-1 can be used with both single coil and hum-bucker equipped guitars with equal facility.

Increasing the gain takes us gradually through the area of our G-2 and P-2 gain structures which gives a higher level of overdrive for that classic cranked up Marshall sound found on most British rock records of the '70s.
There is some serious Rhythm and Lead Tone here which is Powerful but with great Clarity and again, the inclusion of the three band active EQ adds the flexibility of massive amounts of Bass, Mid or Treble Boost will suit any conditions or amp used. Equal amounts of Bass, Mid and Treble Cut are also available - the neutral position of the three tone controls is 12 o'clock.

The GC-1 features an "amazing clean up" using the guitar volume control.

At Maximum gain (+56dB=640X) and adding a large amount of Mid Boost the High Energy Sustain obtained is both Harmonically Rich, Smooth and Fat; almost infinite Sustain is possible with the right guitar/amp combination.
An output Master Volume is included to allow for perfect matching between bypassed and boosted/EQ'd signal level and there is plenty of output signal headroom available to overdrive amp inputs if required.

Our well established Class A input Buffer (LD-1) and radio frequency suppressor is, of course, included and the output buffer impedance is low; to easily drive long cables or other loads without loss of signal or tone.
The Buffer is also fully active in bypass mode to prevent losses associated with long cables and/or load impedances that would not the suitable to connect directly to a passive guitar pickup.

TECHNICAL SPECIFICATIONS:
Overall boost with Gain = 100% and Volume = 100% is +56 dB (640X)
Overall boost with Gain = 0% and Volume = 100% is +20dB (10X)
The above with Bass, Middle and Treble set to 50% = Neutral point = 0dB boost/cut). Bass Control range +/- 16dB @ 50Hz
Mid Control range +/- 15dB @ 950Hz
Treble Control range +/-17dB @ 4KHz
Maximum signal output with Volume 100% is +12dBm/ 3.1v rms/ 6.5v peak to peak.

FEATURES:
RFI rejecting input and bypass buffer.
Each unit is hand built, wired and tested by Pete, Lynda and Mingus Cornish.
Housed in a Rugged Die-cast box size 145 X 95 X 49mm with lined control knobs.
Heavy Duty Custom made all-metal footswitch plus Daylight Visible LED.
Also fitted is an input for a DC adapter: the size of the coax connector is 5.5/2.1mm and the centre pin is negative (-VE). The adapter should be noise free, fully stabilised at 9V DC and capable of supplying 20mA. When multiple effects pedals are to be powered, we recommend the use of the Voodoo Lab Pedal Power 2 Plus adapter as meeting the above criteria and cannot accept any liability for damage caused to this unit by the use of, or to, any other type of DC adaptor. If only a single unit is to be powered the BOSS PSA series may be more cost effective and is also recommended.

WARRANTY DETAILS:
This unit has been built using the finest available components and constructed to the highest standards but should any fault occur during the twelve months from date of purchase please return it post paid to the above address where under guarantee repairs of any original manufacturing fault will be carried out (normal wear, misuse, unauthorised modifications or accidental damage excepted). The warranty will be voided if the guarantee labels are damaged or removed. This warranty does not apply to customer's own equipment, which has been connected to this unit.

©Pete Cornish™ Partnership 2021 E & O E