Unit 5, Silveroaks Farm, Hawkhurst Lane, Waldron, Heathfield, E.Sussex, UK, TN21 0RS
Tel (0)1435- 813393, International +44 1435 813393
VAT Reg. No. GB 241 7291 72
TO PLACE YOUR ORDER PLEASE "EMAIL" ADVISING YOUR DELIVERY LOCATION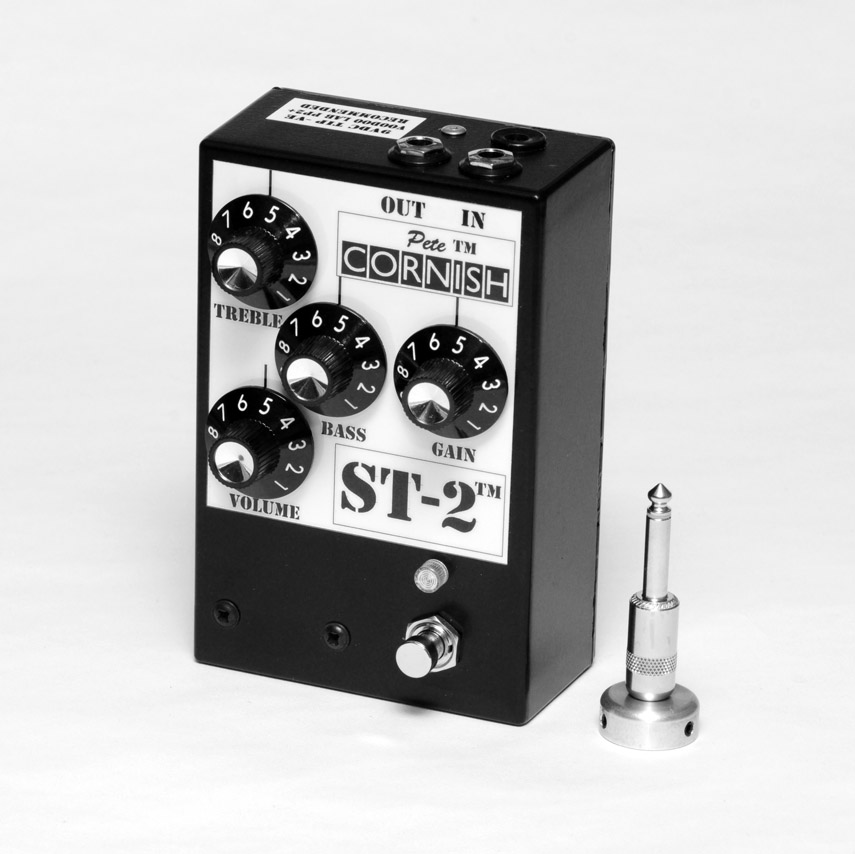 Originally designed for inclusion in the range of Effects Boards created for Pink Floyd's David Gilmour, the PETE CORNISH ST-2™ has a long history of preference by professional rock musicians as a vital part of their custom built PETE CORNISH™Effects Pedalboards and Rack Systems.
The ST-2™ features a superior RFI rejecting input and bypass buffer stage feeding a discrete Class A transistor multi-stage amplifier that has the carefully controlled gain structure with added adjustable Gain and Tone correction circuitry needed by today's active rock musicians.

The ST-2™ has wide range "GAIN", "TREBLE", "BASS" and "VOLUME" controls and we recommend that try some of settings shown below, making small adjustments as you play.
The "Neutral" or "Unity" settings of the controls are: Bass/Treble - #6; Gain – #1; Volume -#8.
The Bass and Treble controls feature both Boost and Cut: higher numbers set the Boost at Bass and Treble frequencies and lower numbers set the amount of Cut at Bass and Treble frequencies.
TYPICAL USES:
Used on it's own the ST-2™ can correct for deficiencies in tone or signal strength of instruments or amps.
Used in an effects chain the ST-2™ can correct or alter the tonal characteristics of other effects units.
TECHNICAL SPECIFICATIONS:
| | |
| --- | --- |
| Input Impedance | 1 Mohm |
| Maximum Output | 1.5 Vrms/+6dBm/4v p/p |
| Minimum Load | 10 Kohm |
| Gain Control | 0/+15dB @ all frequencies |
| Treble Control | +/- 16 dB @ 3 KHz |
| Bass Control | +/- 16 dB @ 30 Hz |
Dimensions: 145 X 95 X 49 mm
FEATURES:
RFI rejecting input and bypass buffer.
Each unit is hand built, wired and tested by Pete and Lynda Cornish.
Housed in a Rugged Die-cast box with 'Chicken-Head' pointer knobs.
Heavy Duty Custom made all-metal footswitch with Hi-Brite LED.
An input for a DC adaptor is fitted: the size of the coax connector is 5.5/2.1mm and the centre pin is negative (-VE). The voltage rating of the adaptor should be noise free, fully stabilised at 9V DC and capable of supplying 20mA. We recommend the use of the Voodoo Lab Pedal Power 2 Plus adaptor as meeting the above criteria and cannot accept any liability for damage caused to this unit by the use of, or to, any other type of AC/DC adaptor. An adapter proving an output of an AC voltage should not be used as it will permanently damage the pedal: such damage is not covered under our warranty. If only a single unit is to be powered the BOSS PSA series may be more cost effective and is also recommended; but do not "Daisy Chain" other effects if using this adaptor as this may cause hum problems.
WARRANTY DETAILS:
This unit has been built using the finest available components and constructed to the highest standards but should any fault occur during the twelve months from date of purchase please return it post paid to the above address where under guarantee repairs of any original manufacturing fault will be carried out (normal wear, misuse, unauthorized modifications or accidental damage excepted). The warranty will be voided if the guarantee labels are damaged or removed. This warranty does not apply to customer's own equipment, which has been connected to this unit. This warranty is not transferable.