Unit 5, Silveroaks Farm, Hawkhurst Lane, Waldron, Heathfield, E.Sussex, UK, TN21 0RS
Tel (0)1435- 813393, International +44 1435 813393
VAT Reg. No. GB 241 7291 72
TO PLACE YOUR ORDER PLEASE "EMAIL" ADVISING YOUR DELIVERY LOCATION
The Pete Cornish SS-3™ is great for crunchy rhythm and a thick bluesy lead; the sound is very much like an overdriven vintage valve amp. The SS-3™ is currently being used by Noel Gallagher of Oasis, and is also a firm favorite of David Gilmour of Pink Floyd, amongst others. It has the best bottom end retention ever heard in an effect, whilst the mid-range is sweet and very transparent. The SS-3™ retains all the tonal nuances of your guitar and will make it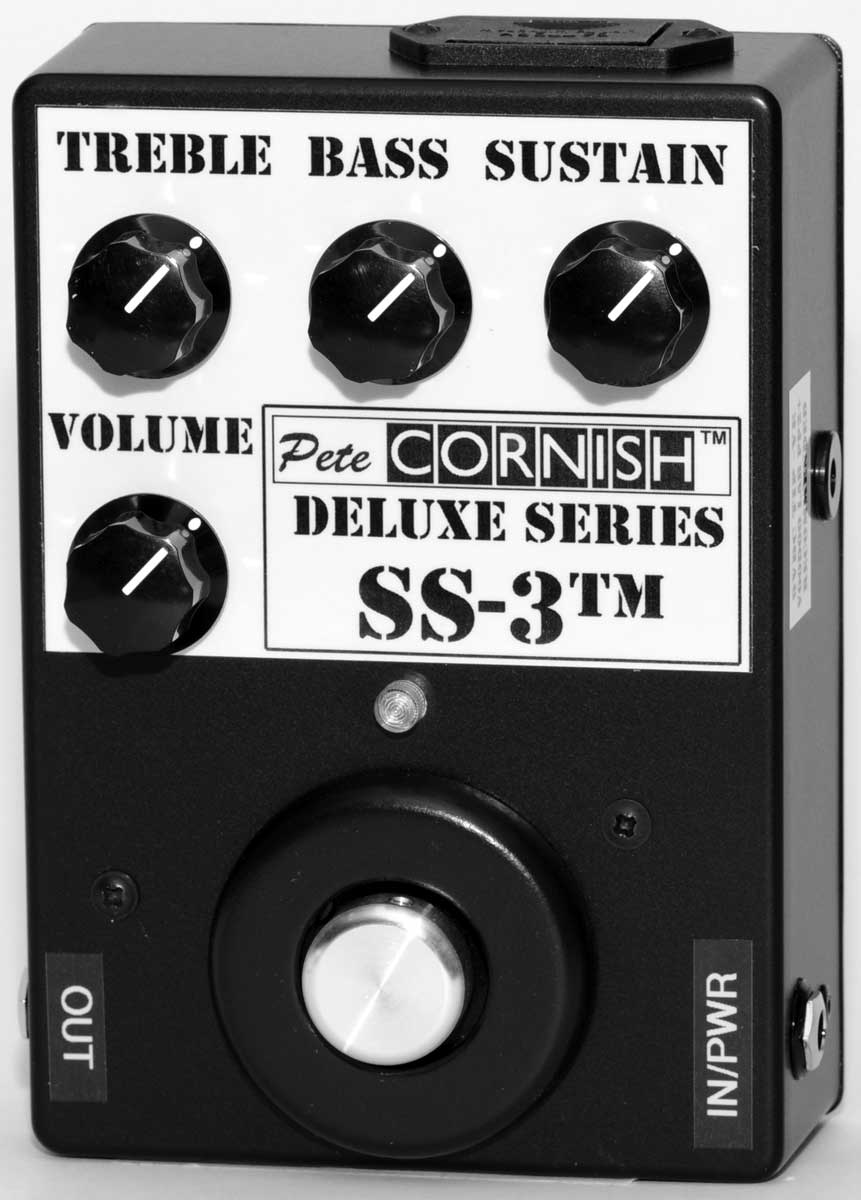 come alive. It is subtle and yet capable of amazing power and sustain. Using the SS-3™ with a clean amp it is possible to progress from subtle overdriven amp sounds, through rhythmic crunch, up to a blues' lead. The tonal characteristics and dynamics of the guitar are maintained even when using this pedal at its maximum gain.

The input to this unique device is our universally acclaimed High Impedance, Unity Gain, Class A, Buffer Preamp with it's superior RFI rejecting capability (to eliminate Radio Station interference) and Low Impedance Audio output, allowing the use of extended cable runs from the SS-3™ in bypass mode. The fixed High Impedance load presented to the Guitar allows the pickups to operate at their optimum, even when several effects units are connected after the SS-3™. The Unity Gain Buffer also prevents "Ghost Distortion" being audible in Bypass Mode. Our effects get the most benefit from being fed into a clean, full frequency response amplifier and I recommend that when you receive your pedal you connect it up without anything else in line, just Guitar/Pedal/Amp, and discover the way the controls interact, both with themselves and the guitar/amp controls. Adding the rest of your effects, you may find that you need to make slight adjustments to these to compliment the constant signal provided by the SS-3™.

The BASS control provides an attenuation of -20dB at 60 Hz when set fully Counter Clockwise. The TREBLE control on the SS-3™ has been designed to provide an attenuation of -14dB at 6KHz when set fully Counter Clockwise. Set fully Clockwise it provides a +6dB Boost to the Harmonic Content of the signal. Settings of the HI-CUT and LO-Cut in-between CW and CCW will provide varying amounts of boost and attenuation: experiment to find your optimum settings.
Dimensions: 171 X 121 X 55 mm / 6.75 X 4.75 X 2.2 inches

FEATURES:

RFI rejecting input and bypass buffer.
Each unit is hand built, wired and tested by Pete, Lynda and Mingus Cornish.
Housed in a Rugged Die-cast box with lined control knobs.
Heavy Duty Custom made all-metal footswitch with large cap and protection ring plus Hi-Brite LED.
Easy battery replacement via a removable ?drawer?. The battery is switched on when you insert the "IN/PWR ON" jack and to ensure long battery life unplug this lead when the unit is not in use. If the unit is not to be used for a long length of time, or to be adapter powered, we recommend that you remove the battery. Preferred battery type is MN1604. Also fitted is an input for a DC adapter: the size of the coax connector is 5.5/2.1mm and the centre pin is negative (-VE). The adapter should be noise free, fully stabilised at 9V DC and capable of supplying 20mA. When multiple effects pedals are to be powered, we recommend the use of the Voodoo Lab Pedal Power 2 Plus adapter as meeting the above criteria and cannot accept any liability for damage caused to this unit by the use of, or to, any other type of DC adaptor. If only a single unit is to be powered the BOSS PSA series may be more cost effective and is also recommended.

WARRANTY DETAILS:

This unit has been built using the finest available components and constructed to the highest standards but should any fault occur during the twelve months from date of purchase please return it post paid to the above address where under guarantee repairs of any original manufacturing fault will be carried out (normal wear, misuse, unauthorised modifications or accidental damage excepted). The warranty will be voided if the guarantee labels are damaged or removed. This warranty does not apply to customer?s own equipment, which has been connected to this unit.

©Pete Cornish™ Partnership 2017